BILLY BRAMBLETT - BILLYLOVE EXPRESS
Born in Detroit to parents from the deep south, Billy grew up listening to his father's jazz and gospel records. By age eleven, he had his first vocal group. After being in the Navy during the Viet Nam era, Billy went to the SF Art Institute to study filmmaking but quickly gravitated to playing music. He moved to Fairfax and started the Sleeping Lady Café, a spot that served vegetarian foods, had nightly music, launched many groups and became ground zero in the new-age enclave of the Ross Valley. Billy had his own group, Space City, and sang with the Fairfax Street Choir.
When the choir faded away, Billy founded Billy B. and the Stingers, a 9 piece R&B show band. A single of 'California Dream'/'Eyes, Sighs and Thighs' was released in 1979, and compilation album 'Hot Ribs' of 1981 had two Stingers cuts, 'Don't Ya Know' and 'Northern Side (of the Golden Gate Bridge).' In 1980, Billy joined the Lighthouse Singers of Marin, directed by one of the first ladies of gospel music, Helen J. H. Stephens.
In '86, Billy's political commentary band, The Awful Truth, recorded an album, '(Do) The National Breakdown'. The video of the title cut, directed by Mark Adler, won Best Promotional Film or Video at the 1987 San Francisco International Film Festival. Billy is also an original member of the Baby Boomers, a cappella review (www.babyboomersings.com), street corner do-wop and comedy originals. Founded in 1986, this quartet is still performing today.
Billy's Greatest Hits (so far) was released in 1996 on cassette, then on CD in 2001. In the early 2000's Billy formed the BillyLove Express, with old Stingers pals Dennis Desjardin, J-Fry Cohen and RJ Franco, and recorded a CD in 2011. 'Just Invoke the 33rd', on Sonic Stew Records. Produced by Clyde Niesen w/ RJ Franco assoc producer, the '33rd' is a collection of a variety of musical styles, Jazz/Funk/R&B and folk. Now with Billy, J-Fry, RJ, & Dennis, the Express has added Rusty Gauthier on lead guitar and this quintet is playing around Marin and Sonoma Counties. www.billyloveexpress.com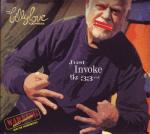 Just Invoke the 33rd
These original songs by Billy Bramblett were recorded in 2011. This CD is an expression of a life-long journey, with songs of love, comfort, political satire, humor, observation, longing, and more. Great players including Rusty Gautier, R.J. Franco, Herman Eberitzch, Walter Bankovitch, Dennis Desjardin, the Baby Boomers, and Bill Craig.
0821861132421